This Month: Our "Giving Back" Social Enterprise
Got Margin? E-Three Labs Does.
Announcing this month's Giving Back Social Enterprise.
E-Three Labs equips young adults in developing communities worldwide with 
technical training and skills to use in creating and supporting local businesses. 
Believe in the Power of Entrepreneurial Spirit. No Margin, No Mission
Congratulations to E-Three Labs: Proudly Named Our Giving Back Social Enterprise of the Month.
At No Margin, No Mission, we are committed to supporting organizations that successfully apply entrepreneurial practices to better achieving their social or environmental mission. As part of that commitment, we select an outstanding social enterprise each month that has succeeded in creating diversified revenue, measurable mission impact, and demonstrated staying power.
Along with this selection, and in keeping with our commitment to give back in communities where we live and work, we make a financial contribution to that organization and feature their story prominently on our Web site and in our communications for the month.
Last month, we were proud to select Cleanslate, a Chicago-based social enterprise that provides job training and placement services to those with high obstacles to employment.
Please take a look below to read about E-Three Labs, this month's featured Giving Back Social Enterprise, and learn about the innovative and entrepreneurial work that they're doing to make a difference in the lives of so many people in Detroit, Southeastern Michigan, and South Africa.
E-THREE LABS: A SOCIAL ENTERPRISE WITH MARGIN AND MISSION
E-Three Labs is a Detroit-based social enterprise that equips young adults in developing communities worldwide with technical training and skills to use in creating and supporting local businesses. With innovative training and partnering programs that focus on 21st century skill development, the organization uniquely addresses clean energy, digital fabrication, permaculture, food security, and career development opportunities with a focus on entrepreneurship.
Founded by Jonathan M. Wege, E-Three Labs has focused on developing career and educational opportunities for Southeast Michigan residents through their photovoltaic solar panel installation class for displaced workers in Detroit, Michigan. They are also developing local & international sustainability project opportunities for local youth through their high school training program.
Through the E-Three Labs programming, Detroit students have traveled to South Africa to teach solar energy design concepts and urban agriculture in a youth-led conference with peers in the township of Soweto. The students completed their efforts by leading teams in building the student designed green house, on the grounds of a primary school within the township.
As a social enterprise, E-Three Labs has created a revenue model in which it charges a service fee for its tuition-based photovoltaic solar course to its client, the state of Michigan, for students that participate in the Michigan Rehabilitation Services program.
E-Three Labs is continuing its efforts to develop local communities by designing and constructing a sustainable carbon negative eco-village on a dilapidated block in Detroit. This project involves the contributions of students, community members & community organizations to design, construct, and install the key components necessary to provide residents with an infrastructure that promotes self-reliance.
In December 2011, E-Three Labs will be returning to South Africa with Detroit students to assist a community centered school in Durban. Students will lead a conference and community service project that will address solar powered battery charging stations for entrepreneurial opportunities, permaculture training, urban garden, and site assessment to address larger energy needs at the school for future student-led projects.
As for the future, E-Three Labs will continue to develop projects in Detroit that address the needs of the community, in addition to continuous efforts to develop communities internationally so that students can return to Detroit equipped with 21st century technical skills, leadership experience, and a global view to add value to local projects. There are future international project sites, as well, which include Ethiopia, Ghana, Tanzania, and Sierra Leone.
ABOUT NO MARGIN, NO MISSION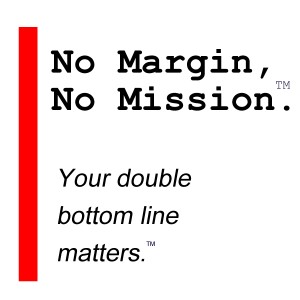 No Margin, No Mission is a social enterprise that helps organizations with a social or environmental mission find ways to expand their margin so they're better able to achieve their mission. We focus largely on identifying opportunities to diversify revenue through earned income strategies, innovation, and entrepreneurial business practices.
We operate from the premise that many nonprofits have created assets of value that can be sold to other stakeholders to help generate financial resources for their organization — which could include anything from curriculum, trainings, keynote speaking engagements, consulting, and a whole host of other offerings.
In the end, our goal is to help nonprofits gain some financial  stability and independence by reducing their dependence on grants and donations, particularly as the challenging economic environment of recent years has left so many organizations unable to expand, grow, thrive, or even survive.
With services targeted to nonprofit leaders, board members, and funder providing support to their grantees, No Margin, No Mission offers specialized consulting, training, and speaking engagements to clients on topics such as entrepreneurial leadership, social enterprise, revenue generation, and business planning, just to name a few.
No Margin, No Mission's co-founders, Larry Clark and Michael Oxman, are cutting-edge thinkers, innovative leaders, and entrepreneurs who are passionate about social change. Their collective work experience spans decades working with clients in the nonprofit and for-profit sectors. To learn more about No Margin, No Mission, visit us at www.NoMarginNoMission.org.