OUR PICTURES ARE WORTH A THOUSAND WORDS
Welcome to our photo gallery!
At No Margin, No Mission, we're fortunate to work with organizations from coast-to-coast, and lots of places in between. Whether we're meeting in Ann Arbor, Chicago, Denver, Detroit, Hartford, Los Angeles, Memphis, Miami, New Orleans, New York, Orlando, Palm Beach, Phoenix, Santa Ana, Sarasota, Seattle, Tacoma, Tampa, Washington, D.C., or any number of other places, our cameras are always close by and ready for picture taking. After all, we know that nothing tells a story, captures a special moment, or documents work in action quite like a picture, which is why we've created this gallery.
We hope you'll enjoy looking at our photos, and encourage you to tell your friends, colleagues, and family to check them out, too. Of course, we'll be adding new pictures regularly, so be sure to check back frequently to see our latest additions to the gallery. Thanks for visiting!
Tacoma, WA
August 30, 2017
West Palm Beach, FL
August 29, 2017
Sarasota, FL
August 17, 2017
Immersion in Realizing Aspirations: Connecting, Learning, Sharing, Evolving, Strengthening
Oak Park, IL
August 14-15, 2017
Myakka City, FL
July 19, 2017
Bradenton, FL
July 18, 2017
Bradenton, FL
July 17, 2017
Project: Advanced Discovery Session to Explore Possibilities and Readiness for Future Earned Income Ventures
Orlando, FL
May 18-19, 2015
January 13-14, 2015
EARNED INCOME BUSINESS PLAN FAST PITCH: West Palm Beach, FL
October 28, 2014
October 15, 2014
September 17, 2014
EARNED INCOME BUSINESS PLAN FAST PITCH: Sarasota, FL
September 15, 2014

September 4, 2014
Workshop: Earned Income…Generating Margin to Grow the Mission of Free and Charitable Clinics
September 5, 2014
Panel Discussion: Keys to Sustainability for the Free and Charitable Healthcare Sector
Participants: Eileen Coogan Boyle, President/CEO Allegany Franciscan Ministries; Larry Clark, Managing Partner and Principal No Margin, No Mission; Alex Young, Former President/CEO United Way of Sarasota
September 3, 2014
Project: Business Planning to Increase Margin and Mission
September 3, 2014
Project: Business Planning to Increase Margin and Mission
 
August 8, 2014
Project: Business Planning to Increase Margin and Mission…Mid-Point Knowledge-Sharing Session with Board and Staff
July 30, 2014
Workshop Topic: Earned Income…Generating Margin to Grow the Mission of Regional Associations of Grantmakers
July 21-25, 2014
Project: 5-DAY BUSINESS PLANNING BOOT CAMP to Increase Margin and Mission
May 28, 2014
Project: Business Planning to Increase Margin and Mission — Mid-Point Knowledge Sharing Session with Board and Staff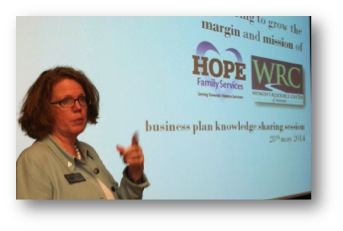 May 27-31, 2014
Project: 5-DAY BUSINESS PLANNING BOOT CAMP to Increase Margin and Mission

April 15-16, 2014
Project: Business Planning to Increase Margin and Mission
EARNED INCOME BUSINESS PLAN FAST PITCH: Sarasota, FL
March 20, 2014
Project: Business Planning to Increase Margin and Mission
March 19, 2014
Project: Business Planning to Increase Margin and Mission — Mid-Point Knowledge Sharing Session
February 19, 2014
February 17, 2014
January 24, 2014
January 23, 2014
January 21, 2014
Project: Business Planning to Increase Margin and Mission…Mid-Point Knowledge Sharing Session
December 18, 2013
November 8, 2013
November 8, 2013
November 6, 2013
October 15, 2013

October 15, 2013

October 14, 2013
October 11, 2013

EARNED INCOME BUSINESS PLAN FAST PITCH: West Palm Beach, FL
October 10, 2013

Onsite Session: September 19, 2013
Onsite Session: September 17, 2013
Onsite Sessions: August 12-16, 2013
Onsite Session: August 11, 2013

Onsite Session: June 6, 2013
Onsite Session: June 6, 2013
Onsite Session: June 5, 2013
Onsite Session: June 3, 2013
Onsite Workshop: June 4, 2013
Onsite Sessions: May 20-24, 2013
Onsite Session: May 16, 2013

Onsite Workshop: March 18, 2013

Exhibition Dates: February 21-22, 2013
Onsite Session: February 18, 2013
Onsite Session: February 10, 2013
Onsite Sessions: February 5-6, 2013

Onsite Workshop: January 23, 2013

Onsite Sessions: January 14-15, 2013
Onsite Session: January 5, 2013
Onsite Sessions: December 4-7, 2012
Onsite Sessions: November 6-7, 2012
Onsite Session: October 31, 2012
Onsite Session: October 31, 2012
Onsite Session: October 30, 2012
Onsite Workshop: October 30, 2012
Onsite Meeting: September 12, 2012
Onsite Sessions: July 19 and August 16-17, 2012
 Onsite Sessions: May 9-11, 2012 / July 17-18, 2012
Onsite Workshop: April 30, 2012

Onsite Sessions: April 26-27, 2012 / June 13-14, 2012

Onsite Meetings: February 8, 2012 and April 10, 2012
Onsite Meeting: January 25, 2012

Onsite Session: December 13, 2011
Onsite Meeting: November 17, 2011
Onsite Meeting: October 3, 2011
Onsite Meeting: November 10, 2011