This Month: Our "Giving Back" Social Enterprise
 .
GOT MARGIN? Cleanslate Does.
Announcing This Month's Giving Back Social Enterprise.
Cleanslate provides neighborhood beautification services to customers 
and transitional jobs to motivated adults with high obstacles to employment.
 No Margin, No Mission. Believe in the Power of Entrepreneurial Spirit.
Congratulations to Cleanslate: Proudly Named Our Giving Back Social Enterprise of the Month.
At No Margin, No Mission, we are committed to supporting organizations that successfully apply entrepreneurial practices to better achieving their social or environmental mission. As part of that commitment, we select an outstanding social enterprise each month that has succeeded in creating diversified revenue, measurable impact, and demonstrated staying power.
Along with this selection, and in keeping with our commitment to Give Back in communities where we live and work, we make a financial contribution to that organization and feature their story prominently on our Web site and in our communications for the month.
Last month, we were proud to select AtWork!, a Seattle-based social enterprise that has achieved tremendous outcomes in the training and employment of disabled young adults in programs such as their recycling center, document scanning operation, consumer goods packaging venture, among other businesses.
Please take a look below to read about Cleanslate, this month's featured Giving Back Social Enterprise, and learn about the innovative and entrepreneurial work that they're doing to make a difference in the lives of so many people in Chicago.
CLEANSLATE: A SOCIAL ENTEPRISE WITH STAYING POWER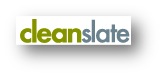 Since 2005, Cleanslate has provided neighborhood beautification services to customers across Chicago and transitional jobs to motivated adults with high obstacles to employment. This sustainable social enterprise grew out of the mission and success of The Cara Program, a Chicago-based nonprofit that provides innovative life- and career-skills training, job placement, and employment retention services to men and women affected by homelessness and poverty.
When Cleanslate first started, a small crew and a handful of staff swept streets and picked up trash in one neighborhood.
Today, Cleanslate provides litter abatement, landscaping, special event, and snow removal services to 14 communities across Chicago and boasts a revenue base of roughly $2 million.
Over the past five years, Cleanslate has provided more than 1,000 transitional jobs to students of The Cara Program who face significant barriers to employment. During their time at Cleanslate, interns gain valuable work experience, on-the-job training, and coaching from uniquely qualified staff. 11 of Cleanslate's 14 employees are former interns and graduates of The Cara Program.
Cleanslate's success paved the way for the launch of a second social enterprise. In 2009, Mercy Housing Lakefront and The Cara Program joined forces to launch 180°  Properties, a joint venture social enterprise designed to meet local demand for property maintenance services for the growing number of homes in foreclosure in the City of  Chicago. 180°  Properties provides a holistic approach to neighborhood stabilization and community revitalization by providing comprehensive property services and a positive community presence.
ABOUT NO MARGIN, NO MISSION
No Margin, No Mission is a social enterprise that helps organizations with a social or environmental mission find ways to expand their margin so they're better able to achieve their mission. We focus largely on looking at opportunities to diversify revenue through earned income strategies, innovation, and entrepreneurial business practices.
We operate from the premise that many nonprofits have created assets of value that can be sold to other stakeholders to help generate financial resources for their organization — which could include anything from curriculum, trainings, keynote speaking engagements, consulting, and a whole host of other offerings.
In the end, our goal is to help nonprofits gain some financial stability and independence by reducing their dependence on grants and donations, particularly as the challenging economic environment of recent years has left so many organizations unable to expand, grow, thrive, or even survive.
With services targeted to nonprofit leaders, board members, and funders providing support to grantees, No Margin, No Mission offers specialized consulting, training, and speaking engagements to clients on topics such as entrepreneurial leadership, social enterprise, revenue generation, and business planning, just to name a few.
No Margin, No Mission's co-founders, Larry Clark and Michael Oxman, are cutting-edge thinkers, innovative leaders, and entrepreneurs who are passionate about social change. Their  collective work experience spans decades working with clients in the nonprofit and for-profit sectors.