Giving Back: October 2011 – Cleanslate Chicago
WE'VE CONTRIBUTED TO THIS SOCIAL ENTERPRISE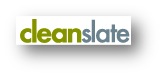 Cleanslate  www.cleanslatechicago.org
Since 2005, Cleanslate has provided neighborhood beautification services to customers across Chicago and transitional jobs to motivated adults with high obstacles to employment.  This sustainable social enterprise grew out of the mission and success of The Cara Program, a Chicago-based nonprofit that provides innovative life- and career-skills training, job placement, and employment retention services to men and women affected by homelessness and poverty.
When Cleanslate first started, a small crew and a handful of staff swept streets and picked up trash in one neighborhood.
Today, Cleanslate provides litter abatement, landscaping, special event, and snow removal services to 14 communities across Chicago and boasts a revenue base of roughly $2 million.
Over the past five years, Cleanslate has provided more than 1,000 transitional jobs to students of The Cara Programwho face significant barriers to employment.  During their time at Cleanslate, interns gain valuable work experience, on-the-job training, and coaching from uniquely qualified staff. 11 of Cleanslate's 14 employees are former interns and graduates of The Cara Program.
Cleanslate's success paved the way for the launch of a second social enterprise.  In 2009, Mercy Housing Lakefrontand The Cara Program joined forces to launch 180° Properties, a social enterprise that provides training and employment for disadvantaged job-seekers who secure, stabilize and preserve foreclosed homes throughout the Chicago region.  In the first year of operation, the venture provided 77 employment opportunities while maintaining over 800 homes.  Now poised for growth, 180° Properties is adding additional home repair services and expanding to Milwaukee.