Business Planning Consultancy to Nonprofits Adds Intern
P R E S S   R E L E A S E
FOR IMMEDIATE RELEASE
Chicago, Illinois, May 8, 2012 — No Margin, No Mission™, the social enterprise and national consulting practice that helps organizations with a social mission diversify revenue, expand impact, and build a lasting future through entrepreneurship, innovation, & business strategy, announced that it has hired its first summer intern. Starting today, Matthew Baron, an undergraduate student at Northwestern University in Evanston, Illinois, joins the firm as Communications and Marketing Intern.
Baron was hired by No Margin, No Mission for his experience working in a strategic consulting capacity with several nonprofit organizations in Chicago. As one of the leaders in the campus club known as Students Consulting for Nonprofit Organizations (SCNO), Baron has provided consultation to Centro Romero in Rogers Park and Appleseed Fund for Justice in Streeterville. He also led a team of four students in restructuring and recruiting board members for Skyline Village Chicago, a collaborative organization that works to create activities and build community among elderly residents around the Loop.
Said Michael Oxman, Co-founder and Managing Partner of No Margin, No Mission's Chicago office, "For his age and tenure, Matthew brings a wealth of experience helping nonprofit organizations apply entrepreneurial thinking and business practices to growing the margin and mission of their organizations." Oxman continued, " We're thrilled to have a college intern of Matthew's caliber and level of passion for the nonprofit sector, and look forward to his many marketing and communications contributions this summer."
Baron is double majoring in Communications Studies and International Studies, and his areas of interest include web analytics and its various applications for marketing and consulting. He also edits a student non-partisan publication called Politics & Policy.
ABOUT NO MARGIN, NO MISSION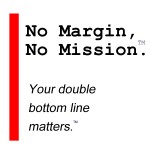 No Margin, No Mission is a social enterprise and national consulting practice that helps organizations with a social or environmental mission increase revenue, expand impact, and build a lasting future through entrepreneurial thinking and business strategy.
With services targeted to nonprofit leaders, board members, and funders providing support to grantees, No Margin, No Mission offers specialized consulting, training, speaking, and implementing services to clients on topics such as entrepreneurial leadership, social enterprise, revenue generation, business planning, organizational growth, intellectual property development, strategic partnerships, marketing and brand strategy, and public relations and communications strategy.
No Margin, No Mission's co-founders, Larry Clark and Michael Oxman, are cutting-edge thinkers, innovative leaders, and entrepreneurs who are passionate about social change. With collective work experience that spans decades in the nonprofit, for-profit, and foundation sectors, their client relationships have included numerous philanthropies, universities, government agencies, and coalitions. With an emphasis on health and human services, they've worked in several fields, including youth development, mental health, education, environment, public health, and community development, just to name a few.
No Margin, No Mission's approach is customized to meet their client's needs. With a hands-on, practical, engaging, and interactive working style, their engagements are thought provoking, interesting, productive, and fun. To learn more about No Margin, No Mission, visit www.NoMarginNoMission.org.