Giving Back: January 2012 Chicanos Por La Causa
WE'VE CONTRIBUTED TO THIS SOCIAL ENTERPRISE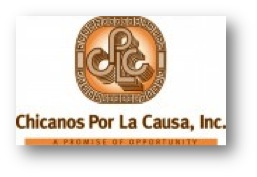 Chicanos Por La Causa, Inc. www.cplc.org 
More than 42 years ago, a group of community and student activists of Mexican descent created Chicanos Por La Causa (CPLC) to address the problems of the barrios of South Central Phoenix, Arizona. Although its initial focus was on creating employment opportunities and combating community deterioration, CPLC became increasingly aware that these problems were much deeper rooted. As a result, CPLC expanded its services to provide assistance to disadvantaged individuals regardless of ethnic origin.
Since 1969, Chicanos Por La Causa's primary reason for being has been to provide its community with economic opportunity. They have delivered on this promise through four pillars of service:
Economic Development: The organization's economic development division that provides business lending, commercial development, neighborhood revitalization, and financial empowerment.
Education: The organization's education priority focus encompasses programs such as Head Start, charter schools, prevention, leadership workshops, and academic enrichment programs.
Community Development (Housing): The organization's housing component encompasses all types of housing development, property management, client counseling, and other pertinent services.
Social Services: The organization's social service programs include behavioral health, domestic violence shelter and prevention, emergency assistance, elder services, legal immigration counseling, HIV, individual and family counseling, women's health, employment training and drug and alcohol rehabilitation and prevention.
As a social enterprise, Chicanos Por La Causa developed an innovative business model that reduces the burden for public dollars to provide needed services to their community. A 501(c)(3) nonprofit organization, Chicanos Por La Causa has created for-profit entities through private partnerships. Profits from these ventures help support the many nonprofit programs that benefit the community.
The skills, knowledge, and expertise of the work of Chicanos Por La Causa's 900 employees have been recognized nationally and internationally. Known as Arizona's leading Community Development Corporation with over 80 offices throughout the state, CPLC recently expanded their services to Nevada and will soon be delivering services in New Mexico.