Business Observer: Nonprofits Swim With The Sharks

Note: This article was reprinted from the article entitled Nonprofits Swim with the Sharks in the Coffee Talk section of the March 31st, 2014 Business Observer online edition.
By: Business Observer
March 31, 2014
The "run it like a business" refrain sometimes slows down when it reaches nonprofits.
A team of business consultants assembled by The Patterson Foundation, a Sarasota-based endowed charitable organization, aims to reverse that problem. Its first move: A fast-pitch session where nonprofit executives deliver business plans to develop earned income or other revenue streams in front of industry experts. Then the nonprofit executives can hear feedback and constructive criticism on the plan. The foundation, in conjunction with consulting firm No Margin, No Mission, hosted its first fast-pitch event March 20.
"I thought it was like being part of a friendly Shark Tank," says The Patterson Foundation President and CEO Debra Jacobs. "These organizations have worked really hard on their business plans, which can be difficult for a nonprofit."
The foundation chose four locally based nonprofits to participate in the program: Easter Seals Southwest Florida; Meals on Wheels Plus of Manatee; Sarasota County Openly Plans for Excellence (SCOPE); and Southeastern Guide Dogs.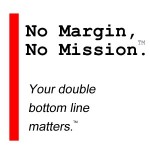 Those organizations, selected from an initial list of 12 nonprofits, were enrolled in a 14-week course taught by No Margin, No Mission, which has offices in Chicago and Tacoma, Wash. The course focused on how the nonprofits could diversify revenue and utilize an entrepreneurial mindset to create project-specific business plans. The Patterson Foundation covered around $40,000 in costs for all four nonprofits to participate in the program, which began late last year.
"We were excited with No Margin, No Mission," Jacobs tells Coffee Talk. "We vetted them and we thought they aligned with our beliefs."
The 14-week course set up the Shark Tank-like event, attended by several prominent business, civic, nonprofit and philanthropic leaders. Larry Clark and Michael Oxman with No Margin, No Mission were there, in addition to area business consultant Michael Corley and Susie Bowie with the Community Foundation of Sarasota County. Corley, during the introduction, reminded everyone that being a "nonprofit is a tax status. It isn't an operating model."
Jacobs says that kind of bottom-line focus was a major theme of the entire program. She says the foundation will continue to work with No Margin, No Mission, though there aren't any plans yet for another fast-pitch event. The best part of the program, she says, was the amount of sharing from the organizations and other participants.
"We could have just funded one nonprofit and it would have been just lovely," Jacobs says. "But there is so much value in learning from others."
– See more at: http://www.businessobserverfl.com/section/detail/mondays-cup-organizations-swim-with-the-sharks/#sthash.oZooTRXe.nEdNuVBk.dpuf